This is not the first time I get to talk about guns, that's true. Every time I've covered the subject I've tried to be as pragmatic as possible when it comes to the usage of firearms in a survival situation. I'm talking a different approach this time. Not that carrying a largest handguns caliber could not serve you well in a SHTF scenario; if it's one thing they do well, is to obliterate everything that stands in your way. A single shot fired is more than enough to stop even large animals in their tracks. They might not be as easily concealable or maneuverable, but there's something really intriguing (almost poetic) about owning your very own hand cannon.
ALSO READ : 4 Of The Best Rifles For Beginners
Maybe it has something to do with the "bigger is better" mentality, who knows? All I know is that there is no such thing as "too big" when it comes to firepower. And I'm sure that many of you share the same exact belief. Let's have a look at some of the best of the best in the field of "heavy artillery".
The Desert Eagle .50 Caliber Handgun
The Desert Eagle .50 is one of the most notorious handguns in the world. Commonly known as "the 50 caliber", it was developed by the Israeli military with the aid of Magnum Research in 1972. It's the largest magazine-fed handgun in the world and despite its age, this old timer is considered (still) to be one of the best looking handguns on the market; especially the versions that come in chrome or titanium gold plating. When it comes to firepower, only one word comes to mind: annihilation. The .50 projectile packs such a heavy punch that made it feared and respected across the map, and won fans from both sides of the law. It's just as lethal as it is beautiful. It has a capacity of 7 rounds and it measures a total length of 10.75 inches (with a barrel length of 6 inches).
ALSO READ : Choosing A Pistol For Tactical Use
The Smith & Wesson .44 Magnum Revolver
This particular handgun was firstly introduced to the world by Clint Eastwood and his infamous character by the name of Dirty Harry. This revolver gained so much in popularity that Smith and Wesson was not only able to sell this particular model, but hat to release "improved" version to meet the demand. It's not a large enough of a gun to cause your body spinning in the air several times before you hit the ground, as seen in the movies, but it's powerful enough to end a life instantly. It's 11.63 inches in total length (the barrel measures 6 inches) and it's about 49ozs heavy. Not the most practical gun in the world, but nothing compares to shooting a .44 Magnum.
The Smith & Wesson's 460XVR Revolver
You might look at this particular Smith and Wesson model and think "overkill". When I look at it I see "beauty". This handgun was introduced in 2005 and the XVR stands for "Extreme Velocity Revolver". It shoots fairly well, especially at a distance bellow 125 yards; when this distance is exceeded, the trajectory of the projectile tends to get curbed, thus losing accuracy. It's really noisy, so for those of you that do not enjoy the "music" made by the 460XVR, I recommend you bring along muffs or ear plugs. It has a capacity of 5 bullets, weighs about 75ozs and the barrel length comes in various sizes: 83/8 (standard), 35/8 inches, 6 inches, 7½ inches and 10½ inches. The finish is stainless, which makes it one of the most beautiful handguns in the world.
.50 BMG Thunder
This is a fully German product. And once again, when it comes to technology, Germany seems to push the barrier just a bit further. Although the WTS .50 BMG (the BMG stands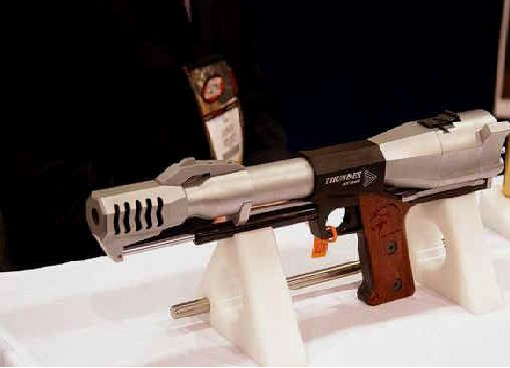 for "Browning Machine gun Cartridge") is technically a pistol, it weighs about 15.87lbs, which is as heavy as an ordinary riffle. Not to mention that the ammo in question, the .50 Browning Machinegun cartridge, was primarily used to pierce heavy armor and take down tanks and airplanes. Imagine how ridiculously power drunk you would feel to unleash all this power from a "pistol". Shooting flesh with a WTS .50 BMG can make it disintegrate into thin air… literally! This monster measures 24.21 inches in length (16.92 inches in barrel length), it has an adjustable trigger mechanism and grip safety. Is it practical? Probably not. Is it glorious? Yes.
Getting a big handgun for survival purposes would not be practical for so many reasons that would take forever to explain. There are way better options for a TEOTWAWKI scenario, that's true. There are lighter, faster and more maneuverable options on the market for preppers and survivalist. But nothing feels quite like shooting a powerful handgun, even if it's just for target practice. It will be heavy to carry, almost impossible to conceal and the recoil and the noise might sometimes feel like it's just too much. But if you're ever in trouble, a big caliber handgun will do its job and stop anybody or anything that threatens your life.
By Alec Deacon
Other useful resources:
The Lost Ways (4 Important Forgotten Skills used by our Ancestors that can help you in any crises)
Survive Attack to Our Power Grid System (DARKEST WOMAN)
Survival MD (Best Post Collapse First Aid Survival Guide Ever)
Backyard Innovator (A Self Sustaining Source Of Fresh Meat,Vegetables And Clean Drinking Water)
Blackout USA (EMP survival and preparedness)
Liberty Generator (Build and make your own energy source)
Backyard Liberty (Easy and cheap DIY Aquaponic system to grow your organic and living food bank)
Bullet Proof Home (A Prepper's Guide in Safeguarding a Home )
USWater Revolution  (Emergency Water – How To Stay Hydrated in the Wilderness)
SOAC (37 Vital Food Items Guide)
Survive The End Days (Biggest Cover Up Of Our President)
MegaDroughtUSA (Discover The Amazing Device That Turns Air Into Water)
Blackout USA (Darkest Days – How To Survive An EMP Attack To The Grid)
Survive Any Crisis (ISIS has recruited US citizens for an attack)